Leído en hootsuite.com . Puedes leer la noticia original aquí.
LinkedIn is the world's largest and most influential professional social network. To help organizations effectively build their presence on this epicenter of networking, we're excited to release powerful new LinkedIn features in the HootSuite dashboard. Marketers, HR professionals and community managers using LinkedIn Company Pages can now fine-tune messaging with advanced targeting options (for Enterprise clients), and improve the performance of page and status updates with the introduction of new analytic modules (available to Pro and Enterprise clients).
"Businesses use LinkedIn Company Pages to share relevant news, industry trends and career opportunities– all of which are key ingredients to standing out from competitors communicating with professionals." says Lana Khavinson, Senior Product Marketing Manager at LinkedIn. "With a global audience of over 200 million professionals, this new integration helps brands effectively tailor messaging to the right audience and analyze the performance of their Company Page Status Updates."
To learn more about HootSuite for Enterprise, please request a demo. To try these new LinkedIn features within HootSuite:

Introducing LinkedIn Analytic Options (Pro & Enterprise)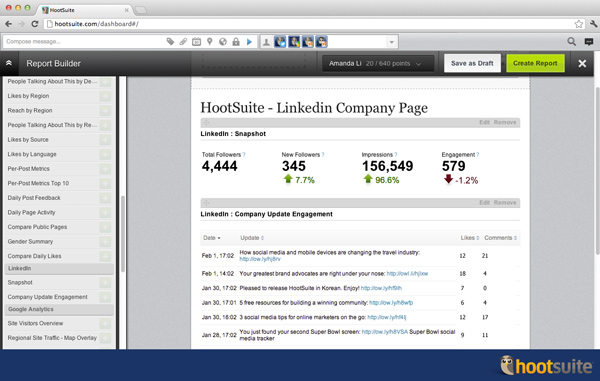 New Targeting Options (Enterprise)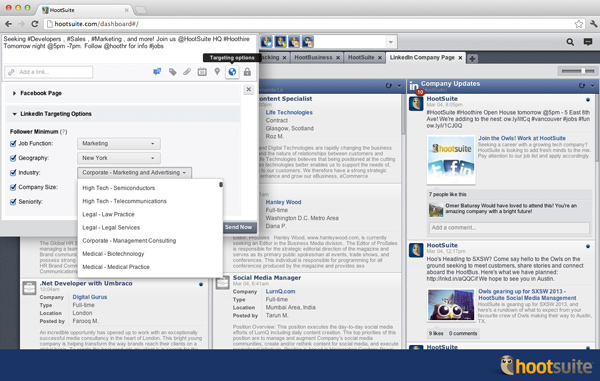 Snapshot, the new analytics tool, provides publishers a quick and exportable overview of their Page performance:
Need to dig deeper and get stats on a per-post basis? Company Update Engagement modules will allow you to access a granular, side-by-side comparison of post metrics that are not available through native LinkedIn analytics. You can also view the last 3 people who commented on a post, with a link to their user profiles.
Sort your popular content by date, by update, or by total number of Likes or Comments.
This release also has a number of features for Enterprise customers that will make targeting messages possible. Want to reach a certain business demographic with your updates? With Targeted Status Updates, you will have the option to filter audiences by the following segments when composing a status update:
Publishers know that the same content isn't always relevant to their entire global audience; advanced targeting options allow even the biggest LinkedIn Company Pages to reach followers on a more personal level. For example, marketers can publish content targeting high-level enterprise decision makers in specific geographies, while continuing to release fresh Company Page news and messaging relevant to their entire follower base. With this powerful new targeting, HootSuite Enterprise users can fine-tune messaging and dive deeper into the social power of LinkedIn.